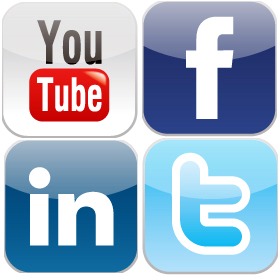 Welcome back to my blog. I'm hoping to one day use my passion for cooking to open a successful restaurant, but the best restaurants do more than just make delicious foods; they also know how to market. Personally I love social media; especially Twitter and Pinterest. I think it would be tricky for a restaurant to market itself on social media without looking like spam. Here are a few tips from a recent article I found about marketing restaurants online:
Make a Facebook Page for your Restaurant
Frequent diners and even casual fans can "Like" your restaurant on Facebook once you create its Facebook Page. This is a great way to reach customers and get them thinking about your restaurant while they are viewing their friends' photos and status updates. I personally follow some of my favorite restaurants on Facebook and am more likely to recommend them to friends when they share coupons or specials.
Tweet, Tweet
Twitter is another great platform for reaching customers. You can tweet out menu items, daily specials, or promotions to anyone who chooses to follow the restaurant on Twitter. Sometimes I follow restaurants and end up unfollowing them because they only talk about themselves. As the article mentions, tweeting about other local events and responding to followers who tweet something like, "where should I go for lunch?" is a great way to start a conversation.
Sneak Peek
I love taking pictures of dishes I have cooked (as I discussed in my last blog post) but I also really enjoy seeing photos and videos of delicious food. Impress customers by uploading photos of your menu to Instagram or add behind-the-scene videos to YouTube so that potential customers can meet your chef. As the article suggests, you can even interview customers about their favorite dishes and they might share the interview with friends and social media connections.
Find other restaurant social media ideas in this Eating Social blog post: http://eatingsocial.wordpress.com/2013/04/22/use-social-media-to-promote-your-restaurant/
Thanks,